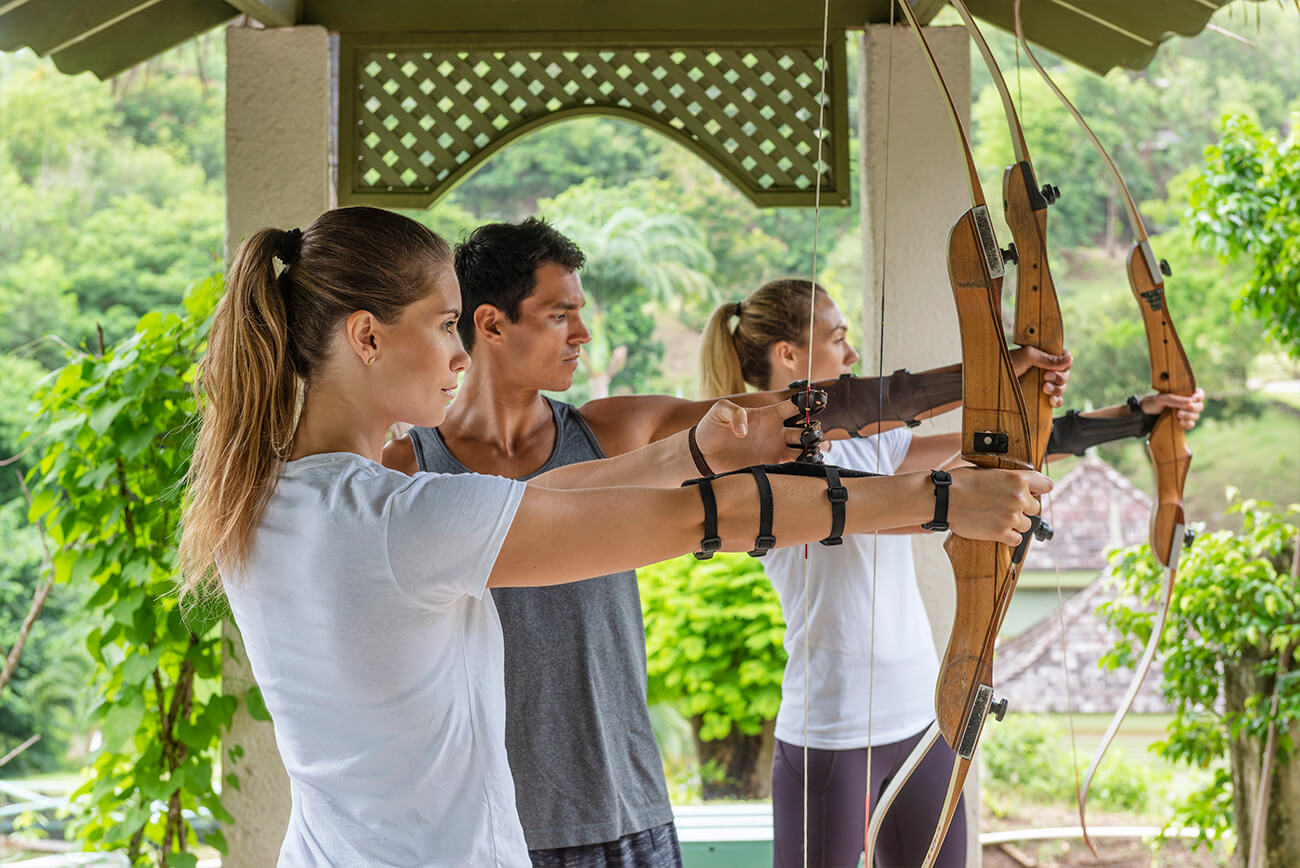 Land Sports
Our land-based sports activities offer the opportunity to practice and perfect specific skill sets and connect with your travel partners and other guests. We provide a range of Land Sports group classes for learners of all levels, beginner, intermediate and advanced.
An age-old practice that has evolved to become a popular Olympic sport, Archery is a fun and challenging activity at BodyHoliday. Benefits range from increased hand-eye coordination, strength, and hand flexibility to mental benefits such as focus and relaxation. Practice and expand your skills or experience it for the first time. We offer both introductory and intermediate classes as part of your inclusive holiday.
BodyHoliday's Coubaril Valley Golf Academy features a practice range and a full-time PGA professional to help improve your game.
Inclusive Golf at BodyHoliday:
Facilities – Four chipping holes, a putting green, and driving nets
Complimentary Group Lessons – We provide an Introduction to Golf for those new to the game, and Intermediate Golf is designed for golfers looking to refine their skills.
Paid Private Golf Lessons and Excursions:
Golf One-on-One – This personalised golf lesson focuses on fine-tuning the player's technique at any level and part of the game, from driving to fairway shots and putting. (30 mins/ 1 hr) Learn More
Golf Playing Lesson – A 3-hour 1-on-1 lesson that includes practicing a series of golf shots. 1st Hour: Shot game, includes chipping, pitching, and putting. 2nd Hour: Full swing, including driving, groundstrokes, and approach shots. 3rd Hours: 4-hole course management. Learn More
Golf by the Round – Arrangements to play a round on the island's championship course at the nearby Saint Lucia Golf and Country Club. Learn More
Whether you want to improve your game, practise your serve, or set up a friendly match, the Coubaril Valley Tennis Club at BodyHoliday features courts for day and night play. Staffed by pros, the club offers guests complimentary introductory and intermediate group lessons throughout the week and individual private coaching sessions.
BodyHoliday Complimentary Tennis Activities
Introductory Level Tennis – 9:00 a.m. to 9:45 a.m.–Mondays to Fridays (group lessons)
Intermediate Level Tennis – 10:00 a.m. to 10:45 a.m.–Mondays to Wednesdays plus Fridays (group lessons)
Friendlies – A weekly tennis competition between guests is held Thursdays from 10:00 a.m. to noon.
Additional Tennis Activities
Private Tennis Lessons – Personalised 1/2-hour and 1-hour tennis lessons focus on fine-tuning your technique at any level. These individual tennis sessions are available between 8:00 a.m. and 9:00 a.m. or 4:00 p.m. to 6:00 p.m. and must be booked 24 hours in advance. (30 mins/1 hr) Learn More
Join in the fun and camaraderie of Beach Volleyball every evening whilst the sun sets over the Caribbean Sea. If volleyball is not your sport, we also have Beach Cricket, Football, Touch Rugby, and other beach-specific sports. Check on daily Beach Sports during your stay using your personal Webroom scheduling tool.
Webroom
DESIGN YOUR BODYHOLIDAY
At BodyHoliday we devised what we call the "webroom". One for
every guest to plan and customise their experience.
Webroom