Our Restaurants
A Wellness Holiday Where Dining is a Delight
Your wellness holiday provides nearly endless dining options and includes breakfast, lunch, and dinner (and everything in between). We offer a combination of world-class international cuisines and delectable local dishes celebrating the culinary roots of the Carribean. From fine dining and exciting theme nights to healthy food and snacks to grab and go during your action-packed day, you'll enjoy fresh food and thirst-quenching drinks at our collection of venues.
Our resort's restaurants embody our core principles of hospitality and well-being, providing a balance of healthy food, a mindful diet, and satisfying indulgences.
*Let us know if you have any dietary restrictions, allergies, or special requests prior to your arrival. Please reach out to our concierge team or go to your personalised Webroom or the BodyHoliday App and fill out your dietary preferences in your profile.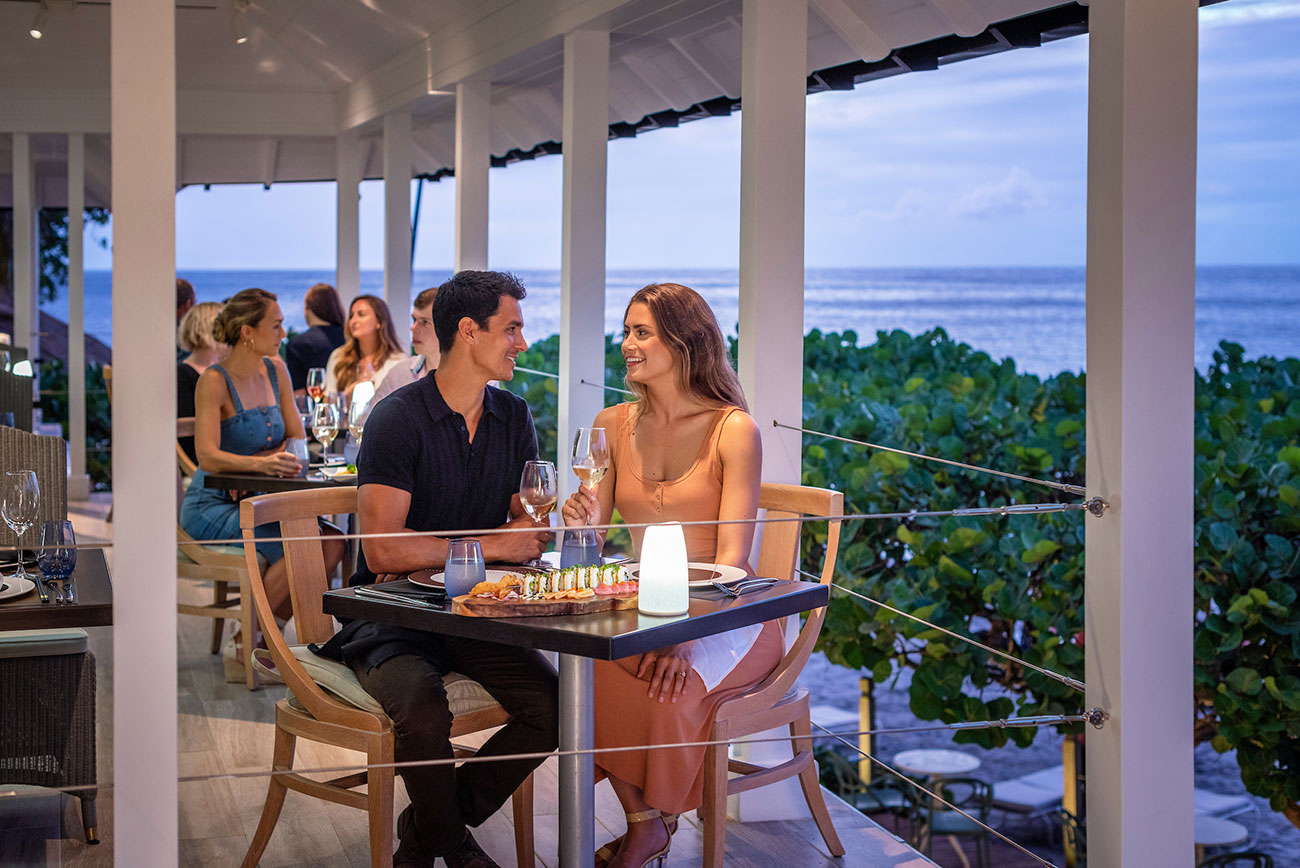 Tao
TAO is a vibrant and sophisticated restaurant offering cuisine with influences from both East and West. One side of the dining room is open-facing the sea, providing the contrasting sights and sounds of the Caribbean and the starry sky over Cariblue Bay. A harmonious and comfortable environment, TAO is an AAA three-diamond award winner and has been named to Condé Nast Traveller's list of the "60 Hottest Tables".
*TAO is a non-smoking restaurant, open for dinner from 6:30 pm to 9:30 pm. Reservations are required a maximum of 48 hours in advance. Some dishes carry a supplemental charge.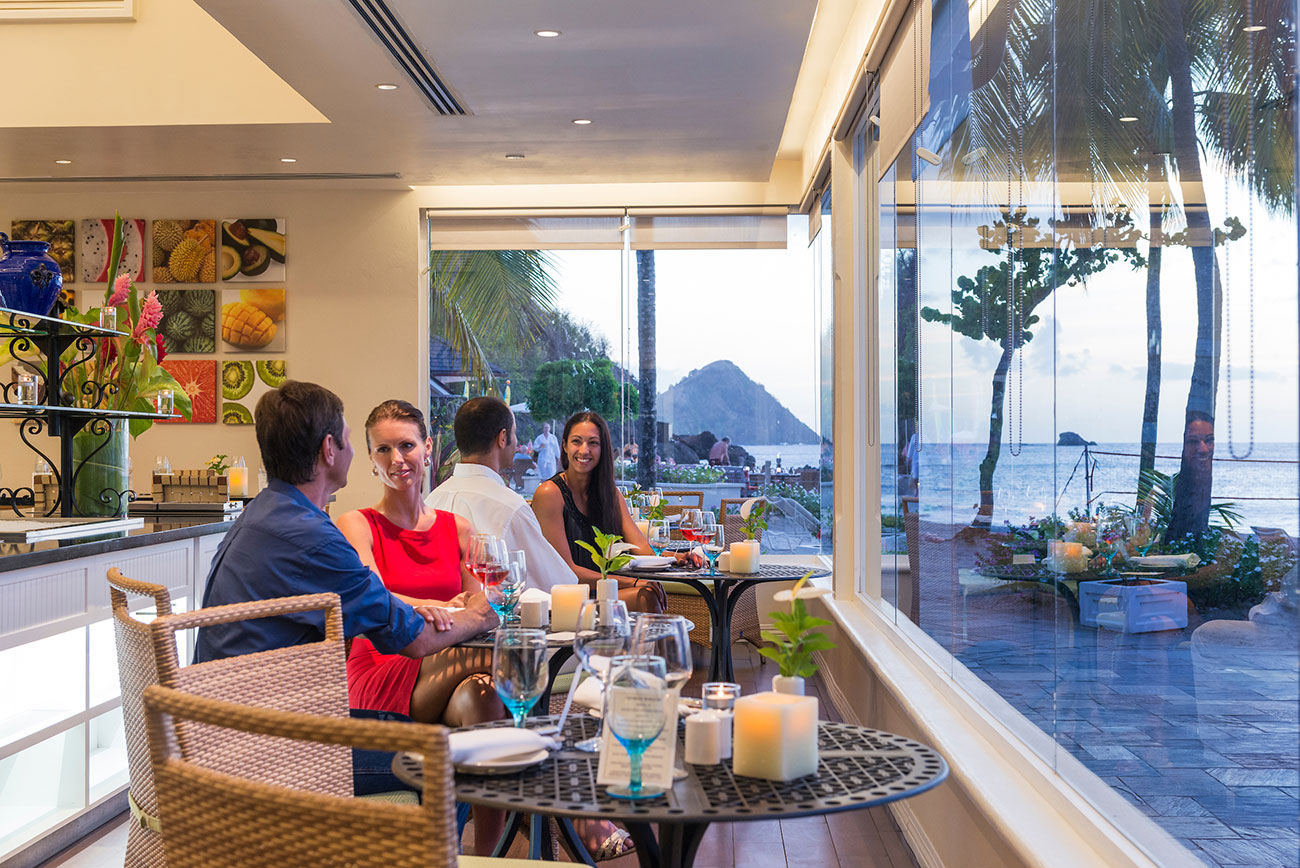 Cariblue Windows
At night, we introduce Cariblue's Windows, a chic eatery where our chefs showcase their talents with imaginative tasting menus and wine pairings. Watch the culinary team create your dish at the live-action seating station, or take in the view of our tropical gardens and the waterfront from the banquet tables along the windows. There is a cycle of five menus weekly, changing the style and origin of the tasting menu experience each evening.
*Open only for dinner on Mondays, Tuesdays, Thursdays, and Saturdays, with timed seatings at 7:00 pm and 9:00 pm. Some dishes carry a supplemental charge. Pairings from our fine wine selection are priced separately. Inclusive wines are available upon request.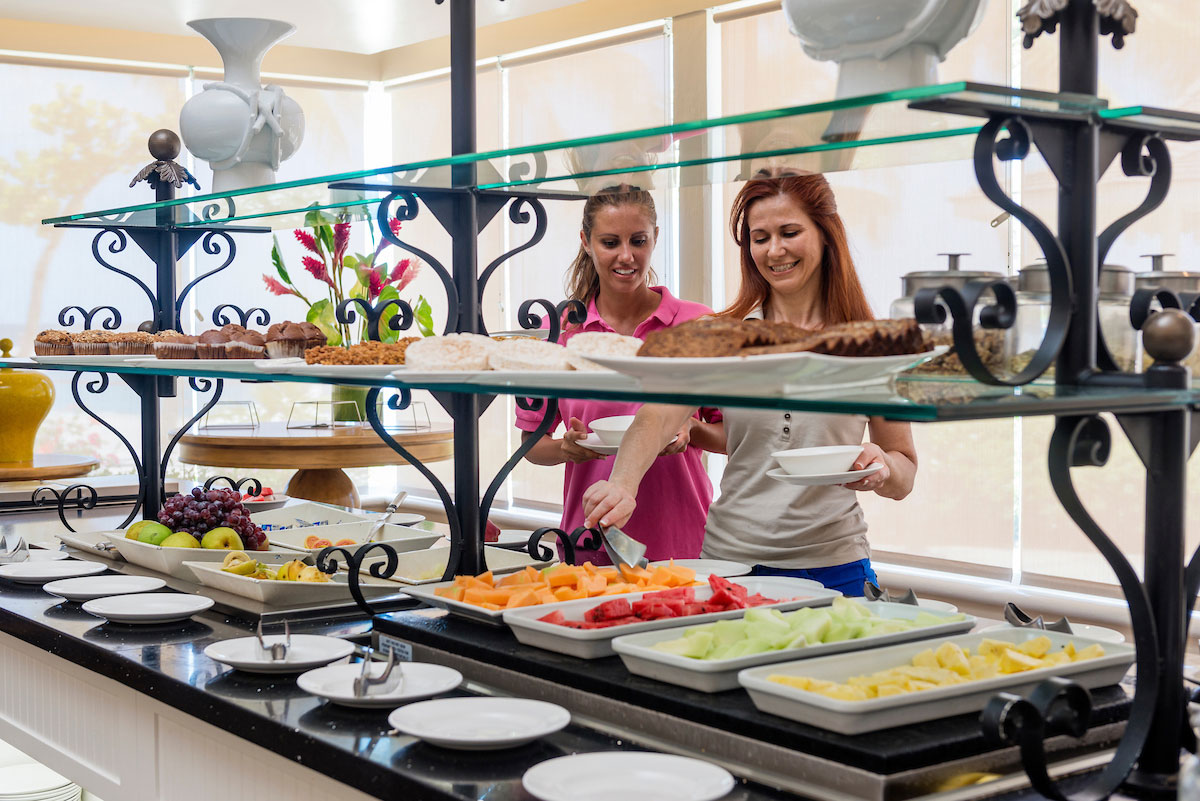 Cariblue
Open for breakfast, lunch, and dinner, Cariblue Restaurant offers both healthy and indulgent globally-inspired dishes in a beautiful open-air dining room on the beach. Breakfast and lunch are served buffet-style, with daily-changing lunch themes featuring Mediterranean, Asian, Mexican, and West Indian cuisine. Cariblue is open for seated dinner service four evenings a week, offering a diverse a-la-carte selection of refined dishes and ample heart-healthy, vegetarian, and vegan options. Not to be missed, Wednesday evenings are reserved for our West Indian Buffet with steel band musical entertainment.
*Open for breakfast: 7:30 am – 10:30 am, lunch: 12:00 pm – 2:30 pm, dinner: 7:00 pm – 9:30 pm. Some dishes carry a supplemental charge. Cariblue is a non-smoking restaurant; however, smoking is permitted in the adjacent Cariblue Courtyard, with comfortable and relaxed outdoor seating.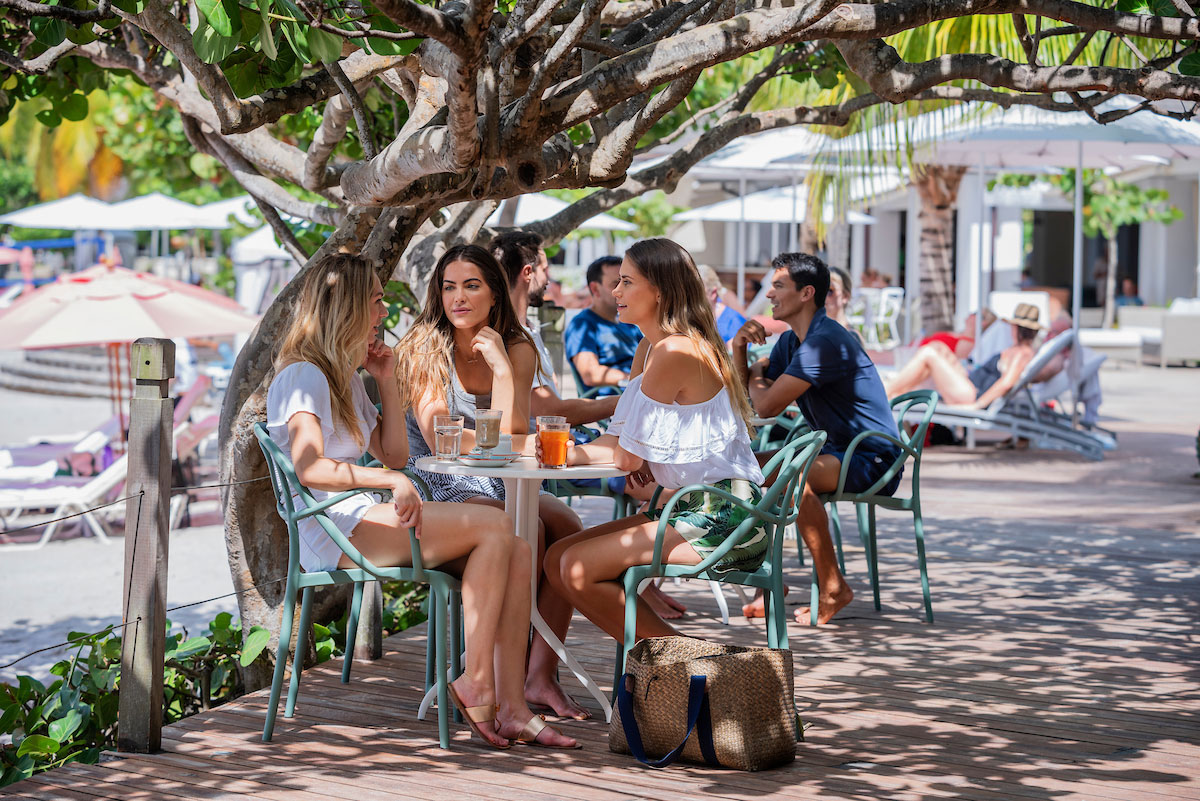 Wellness Café
Along the boardwalk, set on a seaside terrace with tables shaded under almond trees, the open-air Wellness Café is the perfect destination for fueling up with a late breakfast, brunch, light lunch, and healthy snacks. You'll find everything from a morning espresso or a menu of smoothies to specialty salads, gourmet sandwiches, fresh fruit and veggies, and decadent treats. Just a barefoot step from the beach and central to the resort, it's a perfect solution for a casual meal throughout your active day.
*Open daily from 7:30 am – 10:00 am for breakfast and then offers lighter options from 10:00 am to 4:00 pm.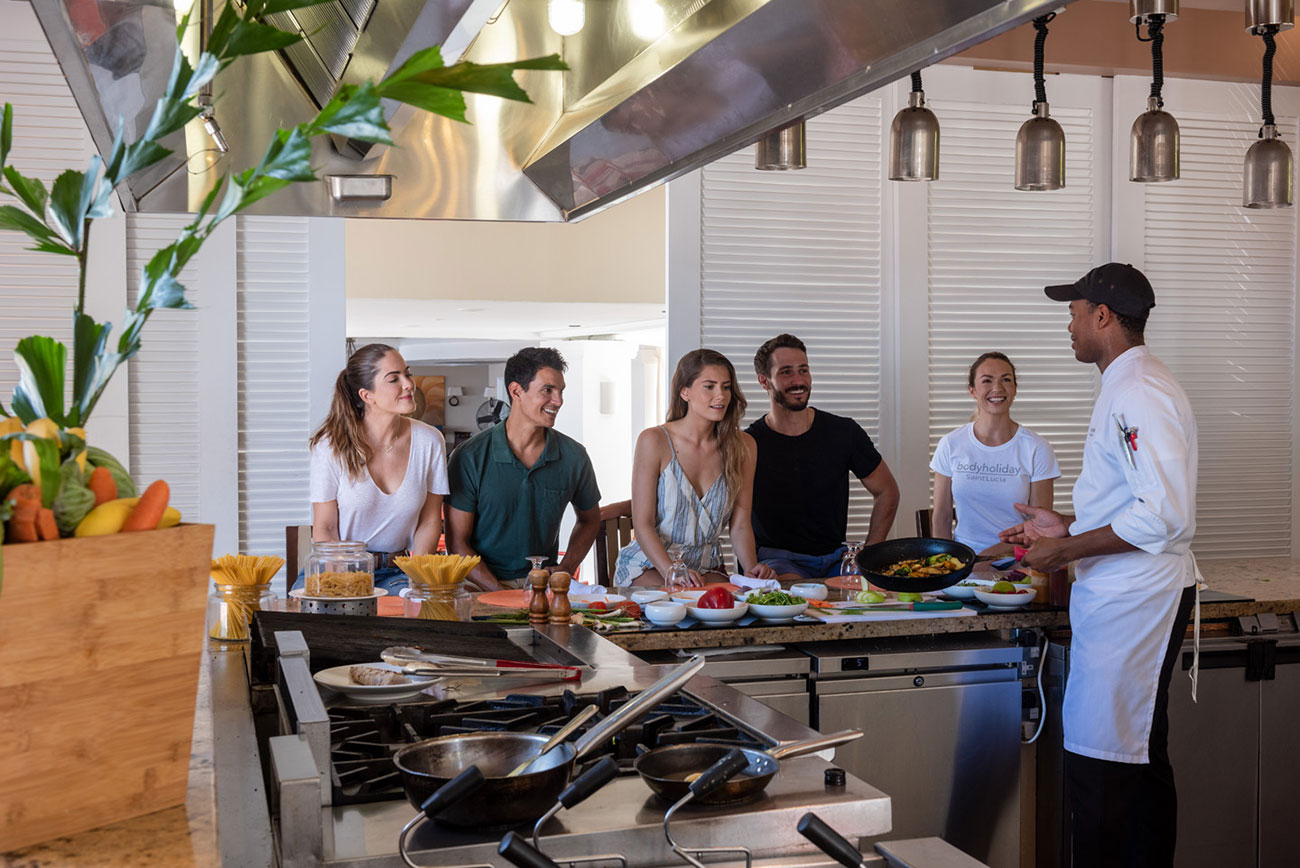 Pavilion Grill
The Pavilion Grill is situated on our Boardwalk, a step from the beach and adjacent to the Clubhouse Bar. A casual eatery, the food style here is simple and healthy, including grilled steaks, kebabs, fresh fish, and seafood. The Pavilion Grill also features a buffet-style salad bar and a variety of other hot dishes, curries, pastas, and casseroles. Stop by to design your own pizza—made to order in our authentic clay pizza over, and indulge in a delicious dessert from our bakery.
*Open daily for lunch from 12:00 pm to 2:30 pm and dinner from 7:00 pm to 9:00 pm.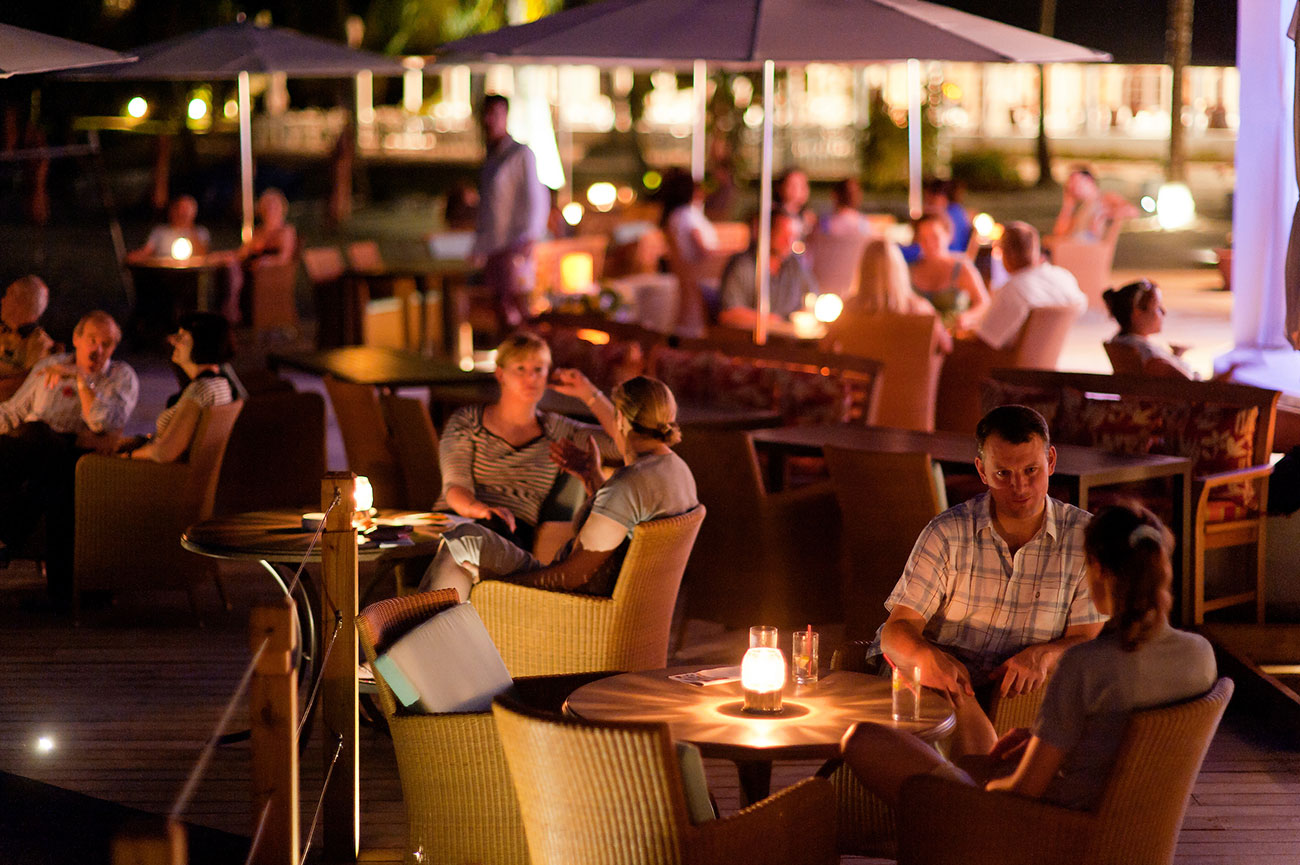 Afternoon Tea
Meeting for tea time in the Clubhouse and Pavilion is a long-held BodyHoliday tradition. To accommodate your personalised daily schedule, we serve Afternoon Tea until the sun goes down. Treat yourself to delicious dainty cakes and pastries, finger sandwiches, scones, and cream, plus an endless range of teas. Definitely one of our guilty pleasures!
*Afternoon tea is served daily from 4:00 pm to 6:00 pm.
Webroom
DESIGN YOUR BODYHOLIDAY
At BodyHoliday we devised what we call the "webroom". One for
every guest to plan and customise their experience.
Webroom