In an inspiring display of corporate social responsibility, the team at BodyHoliday recently invited Steve Lewis, a former Olympian, to visit the Saint Lucia Sports Academy. This initiative aimed to motivate and empower students by sharing Lewis' remarkable journey as an athlete and his insights on the importance of discipline, perseverance, and teamwork. The event served as a catalyst for the student's dreams and aspirations, leaving a lasting impact on their lives. Let's delve into the details of this remarkable day and the significance it holds for the community.
Meeting an Olympic Legend
On Tuesday, July 4th, 2023, the Saint Lucia Sports Academy buzzed with anticipation as Steve Lewis arrived, accompanied by the passionate team from BodyHoliday. Lewis, a former Olympic sprinter who has earned accolades for his incredible athletic achievements and determination was able to capture the hearts of many. With his contagious energy and warm smile, Lewis instantly connected with the students, instilling a sense of admiration and excitement.
But who is Steve Lewis?
Steven Earl Lewis born May 16, 1969 is a former American track and field athlete, winner of three gold medals at the 1988 Summer Olympics and 1992 Summer Olympics. His story started in 1988 at the University of California where, as a freshman, he had a spectacular year. At the time, the precocious 19-year-old not only completely rewrote the world junior all-time list in the 400 m, but also proved his mettle in senior competition by winning the Olympic gold medal.
Lewis had not been a total unknown prior to 1988, having set a personal best of 45.76 at the 1987 USA national junior championships, but he caught many unawares when he won his quarter-final at the USA Olympic Trials with a world junior record of 44.61, and then slashed this time the following day, when he won his semi-final in 44.11.
Sharing Tales of Triumph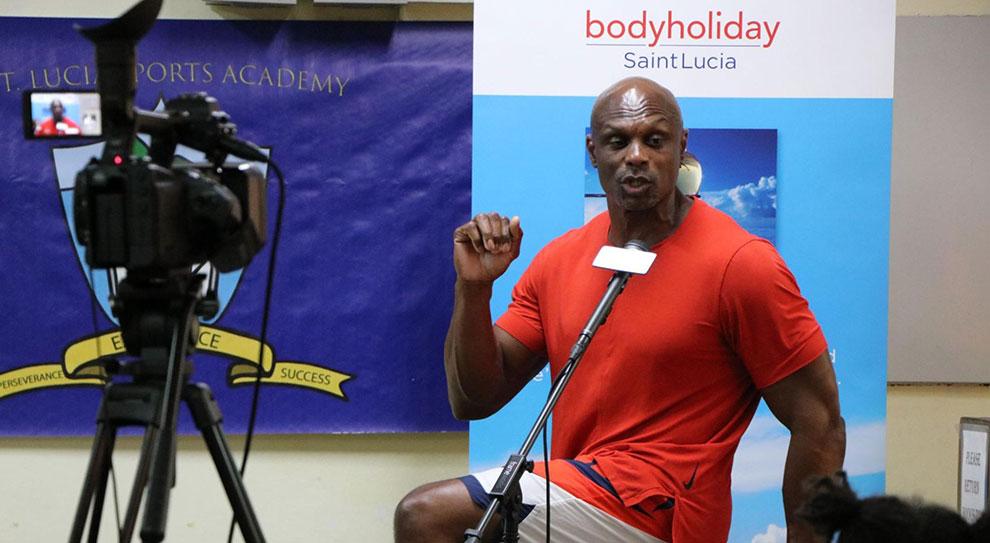 As the students settled in the auditorium, Lewis took the mic, ready to inspire young minds. Through captivating storytelling about his journey from university to the Olympics, he shared the challenges he faced on his path to success. Lewis emphasised the importance of setting goals, maintaining focus, and never giving up, regardless of setbacks. He stressed the fact that success requires hard work, discipline, and unwavering belief in oneself.
Interactive Sessions
The school visit continued with interactive sessions that allowed the students to actively participate and engage with Lewis. They had the opportunity to ask questions, seek advice, and share their own dreams and aspirations. Lewis encouraged each student individually, providing them with valuable insights and encouragement to pursue their passions along with extensive time spent on discussing their plans for after sports.
Recognising the importance of planning for life after athletic endeavours, Lewis aimed to inspire students by shedding light on the diverse range of opportunities available to them. This discussion encouraged the students to consider a holistic approach to their future, placing emphasis on the value of education, transferable skills, and personal growth.
Teamwork and Perseverance
One of the key messages Lewis emphasised was the significance of teamwork. Drawing from his own experiences, he highlighted how a supportive network of coaches, teammates, and mentors played a pivotal role in his success. He stressed that cooperation, collaboration, and a positive mindset are vital in achieving goals, both in sports and in life.
Leading by Example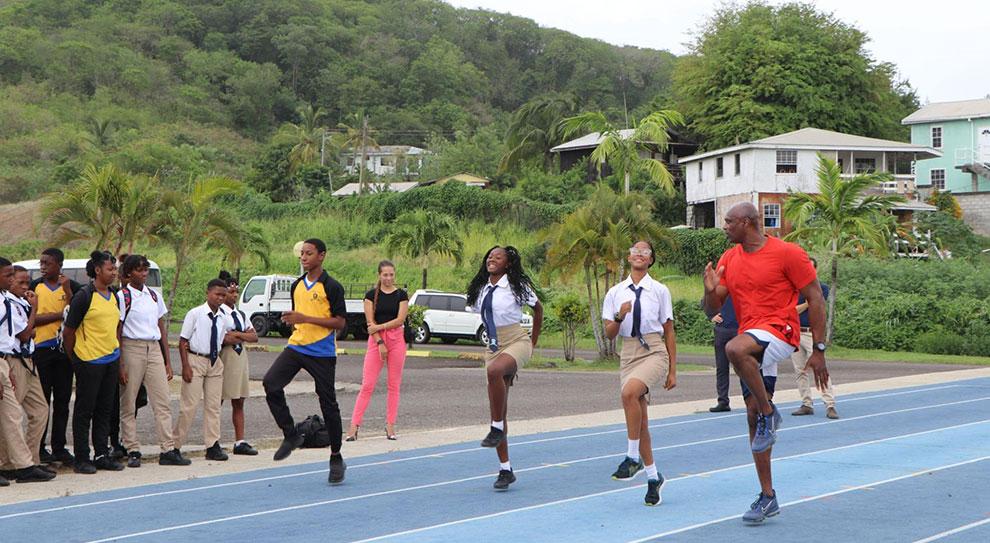 Lewis wasted no time in getting the students engaged in the training session. With his wealth of experience and expertise, he demonstrated various techniques, shared training tips, and provided guidance on improving performance. The students watched in awe as he effortlessly executed each move, proving that hard work and dedication can lead to remarkable achievements.
Specifically, he stressed on warm-up exercises like the classic A skip and Knee buff which is designed to increase flexibility, improve circulation, and prepare the body for physical activity. From stretching and mobility exercises to light cardio movements, each activity was carefully selected to engage major muscle groups and activate the students' energy.
That's not all, to the delight of the students, Lewis actively involved them in the training drills. He encouraged them to showcase their skills, provided individualised feedback, and motivated them to push their limits. The students felt an immense sense of pride and motivation, realising that they were training side by side with an Olympic champion.
Motivating the Next Generation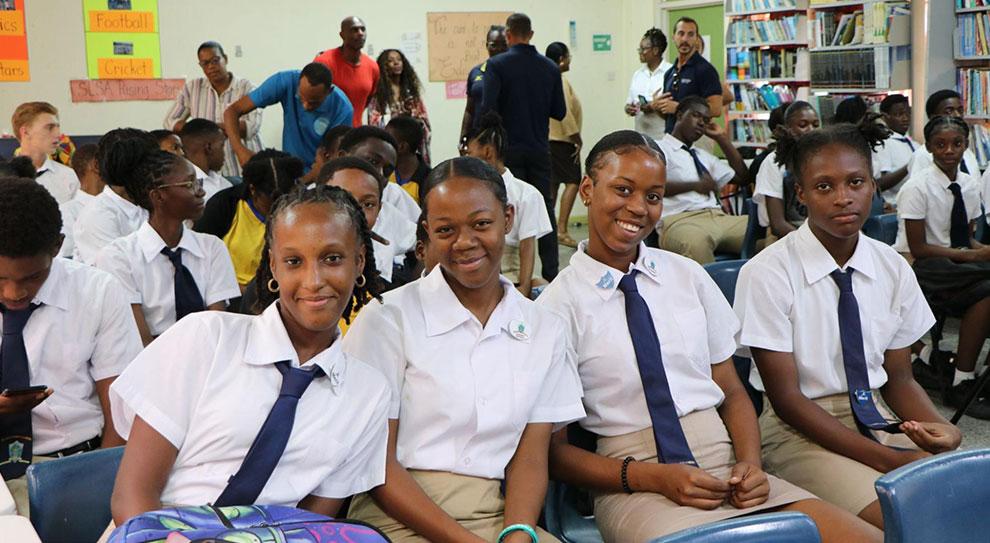 By the end of the event, the school's atmosphere had transformed into an arena of dreams and possibilities. Inspired by Lewis' journey, the students were infused with renewed motivation and a belief that they too could achieve greatness. The BodyHoliday team, witnessing the impact firsthand, felt gratified knowing they had contributed to the students' personal growth and development.
Beyond the Event:
The visit was just the beginning of an ongoing partnership between BodyHoliday and schools on the island. The team pledged continued support, offering many more visits from Olympians, mentorship opportunities, and paraphernalia to further enhance the students' athletic pursuits. By investing in the local community, BodyHoliday aimed to nurture talent, empower future generations, and foster a culture of giving back.
As for Steve, he would attest that his visit to the Saint Lucia Sports Academy was a remarkable event that has left a lasting impact. Through his expertise, guidance, and genuine interest in the student's development, he has ignited a spark within these aspiring athletes, empowering them to strive for greatness. Through his story, the students were motivated to pursue their dreams, embrace teamwork, and strive for greatness. There's no doubt that this event exemplified the positive impact that collaboration between organisations and inspirational figures can have on local communities. BodyHoliday's commitment to supporting the students beyond this event demonstrates their dedication to making a lasting difference. Together, they are building a brighter future, one that encourages personal growth, resilience, and the pursuit of excellence.